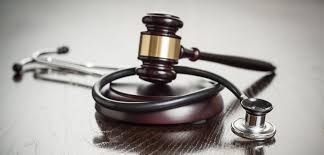 The Medical Council has the power to investigate any complaint of professional misconduct, malpractice, fraud, dishonesty,negligence or of a breach of the Code of Practice( preliminary investigation) against a registered person( A person whose name is on one of the registers kept by the Medical Council by virtue of law- including a public officer)Then if it is found that there is evidence of fault of the medical practitioner after the preliminary investigation, a disciplinary tribunal is set up and which will constitute of a President (a law officer or a person who has held a judicial office for more than 10 years) and 2 other members who are registered medical practitioners of more than 10 years practice and who are not members of the Medical Council. It has to be noted that the law of evidence will apply throughout the proceedings and evidence may be taken under oath. If the decision of the Tribunal is that the charges against the registered person is proven then the tribunal may impose:-
A warning or a severe warning;
A reprimand or a severe reprimand;
A suspension from medical practice for a period not more than 12 months; or
the removal of the registered person's name from the register.
The decision from the Council should be communicated to the registered person within 14 days.
What is the composition of the Medical Council?
The Council shall consist of—
14 registered medical practitioners of more than 15 years practice;
a representative of the Ministry responsible for the subject of health, who is a registered medical practitioner;
a representative of the Prime Minister's Office;
a representative of the Attorney-General's Office; and
5 persons who, not being medical practitioners, shall be appointed by the Minister.
The Composition of the Council shall be published in the Government Gazette and the Council shall hold office for a period of 3 years.
Remedy for victims of Medical Negligence?
Victims of medical negligence can initiate civil proceedings where damages can be obtained if the case is proven on the balance of probabilities. The services of both an attorney and a barrister at law will be required to initiate proceedings in the Supreme Court of Mauritius and it has to be noted that if the medical negligence case is directed towards the Ministry of Health and the Government of Mauritius, then the case should be lodged within a time-frame of 24 months. (A notice needs to be served upon the Government to inform of the intention to sue them, therefore in practice a case should be lodged within by latest 22 months to be on the safe side) 
Moreover, criminal proceedings could be initiated by the police where there is a case of death or serious injury to a patient. The degree of negligence must be so grave as to go beyond a matter of compensation.The medical practitioner may be prosecuted by police and charged in a criminal court.